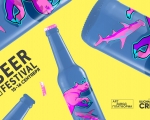 Kyiv Beer Festival is a festival of beer culture focused on craft beer brewed by author's, handicraft recipes collected from all over Ukraine.
The wave of popularity of craft beer came to Ukraine several years ago from the USA, where the craft breweries captured a quarter of the beer market. In our country, kraft beer has won so far only 1% of the market, but this trend is spreading faster every day. Therefore, the team Ulichnaya Eda for the second year running this festival of beer culture.
Guests of the festival also expect a delicious and varied food court.
Location: Kiev, ul. Belomorskaya, 5, Art-plant Platform
01-09-2018, 01:40