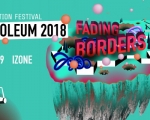 The International Festival of Actual Animation and Media Art LINOLEUM is the largest show of the best author's animation in Ukraine.
For 4 days of the festival you will have the opportunity to see 250 films; participants of the famous Annecy, Berlinale, Tribeca, Ottawa and other international festivals; to get acquainted with the Ukrainian animation and its representatives, and also to hear the advice and experience of foreign guests.
From September 6 to 9, we invite you to make an unforgettable trip to the magical world of visual art, where the boundaries between reality and fantasy disappear, where the wildest dreams find their embodiment in short video stories.
You will witness an exciting competition of thoughts and their non-standard incarnations.
All the displays will be held in the creative space of IZONE (Naberezhno-Lugovaya, 8, T. Shevchenko's metro).
23-08-2018, 22:49