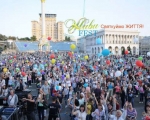 On September 9, Khreshchatyk will host an annual charitable social and artistic project "LIVE FEST 2018".
If you love a healthy lifestyle, join the whole family! The holiday will be held with the support of the Ministry of Culture of Ukraine.
Program of events:
9:00 - a large-scale sports festival INTERSPORT FEST UA, in which about 8 thousand participants will take part in the competitions.
Also visitors are waited by improbable show, master classes and full immersing in sports!
14:00 - art-space "Sense of Life", where you are expected:
family art-playground, photo exhibition
children's locations
photo zones
master classes.
17:30 - dance flash mob "LIVE DANCE" - this is the biggest simultaneous master-class with the participation of outstanding sportsmen, champions of the world and Ukraine and all comers!
18:00 - evening show "Celebrating Life!" with an art installation "Man has wings"
Also in the program:
exclusive family show from the design studio "SVITLO"
balloon parade
a lot of gifts.
30-08-2018, 00:11